Baked sea bass with an orange, grapefruit and fennel side salad.
Here we are… into 2016… Happy New Year!!! I hope that everyone had a wonderful holiday with your loved ones. I spent part of my holiday in the beautiful region of Abruzzo in Italy with my family and friends. We had sunshine and a feast every day with neighbours and relatives coming in and out of the house, exchanging presents, drinking prosecco, eating roasted meat and every kind of cake and biscuit that you can imagine.
January is definitely the time when we all feel that we need a new start; a healthy start! I think the meal is a celebration of life, and life is to be celebrated every day, from the first to the last of the year. I also believe that it is only possible to live healthily when eating healthily. We do need a balance in our daily life. Welcome to 2016. Let's at least make the first week a healthy one!
Going back to work is always demanding, especially after a festive holiday. So, I have the perfect recipe to regenerate your day. It is easy and quick to prepare. Once you have made the salad and your sea bass is in the oven, you can sit back to relax or enjoy your favourite book. It only takes 25 mins to cook.
Ingredients for the main dish (serves two)
2 fresh whole sea bass
6 cherry tomatoes
1 lemon
1 stem of celery
1 slice of bread (to make breadcrumbs)
1 teaspoon of mixed herbs
2 tablespoons of extra virgin olive oil
A pinch of herby rosemary flavoured salt
Variation: you can also try it with salmon or trout.
Method
Preheat the oven to 190'C/Gas 5. Wash the fresh sea bass inside and out. Score across the skin on each side then lay the fish on kitchen foil.

Stuffing the fish.

Break the fresh slice of brown bread into small pieces in a large bowl. Add 2 tablespoons of extra virgin olive oil, 1 teaspoon of mixed herbs, a pinch of salt and mix together. Now you are ready to stuff the inside of the fishes with your breadcrumb mixture.
Cut the 6 cherry tomatoes in half and add to the stuffing for each fish.
Cut the stem of the celery and the lemon into slices. Position these on the top side of the fish.
Wrap the fishes individually in the kitchen foil and position in the centre of the oven. Cook for 25 minutes (oven 190'C/Gas 5).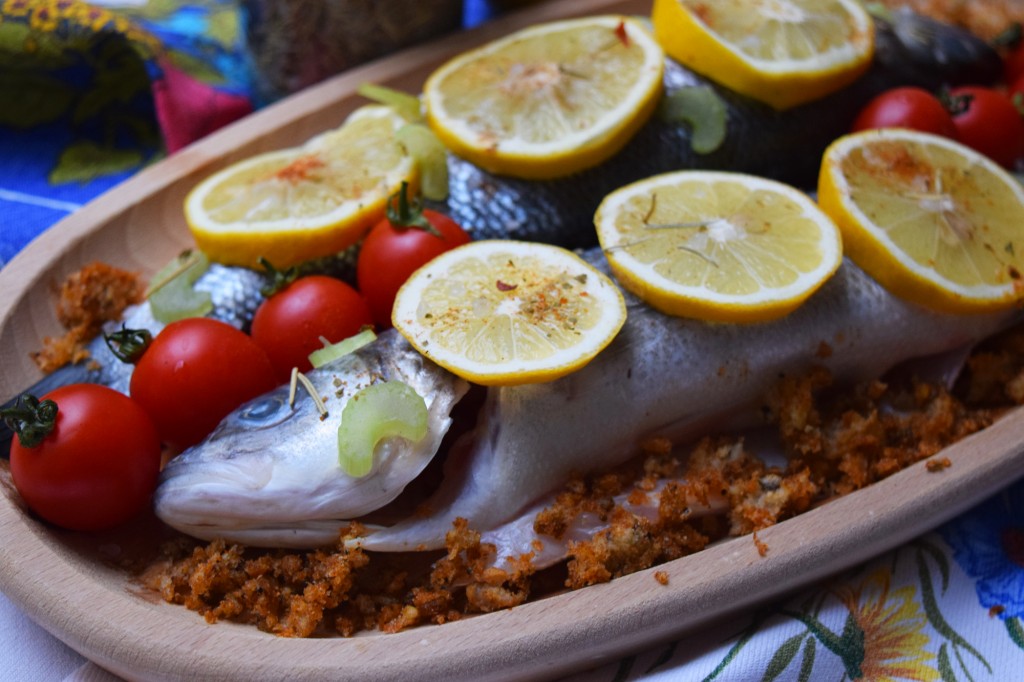 Ingredients for the salad
2 Oranges
1 Grapefruit
1 fennel bulb
2 cups of black olives
A few mint leaves
2 tablespoons of extra virgin olive oil
A pinch of salt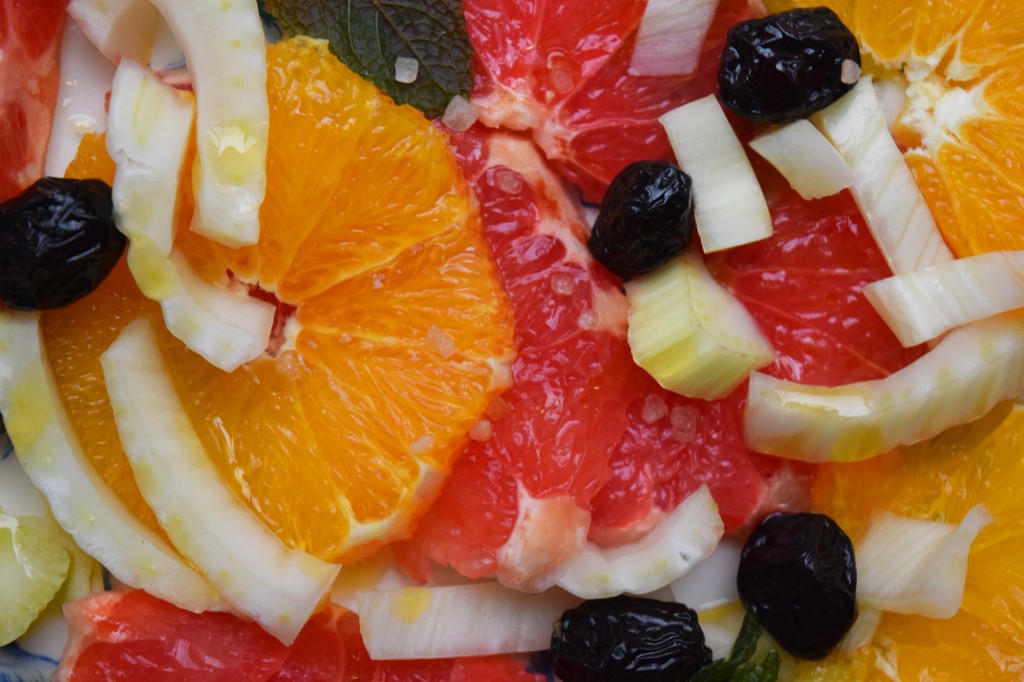 Method
Cut away the skin and the membrane of each orange and grapefruit.
Slice the pieces and place in a bowl. Add sliced fennel.
Drizzle with extra virgin olive oil. Add the black olives, mint leaves and salt.
Gently mix the salad.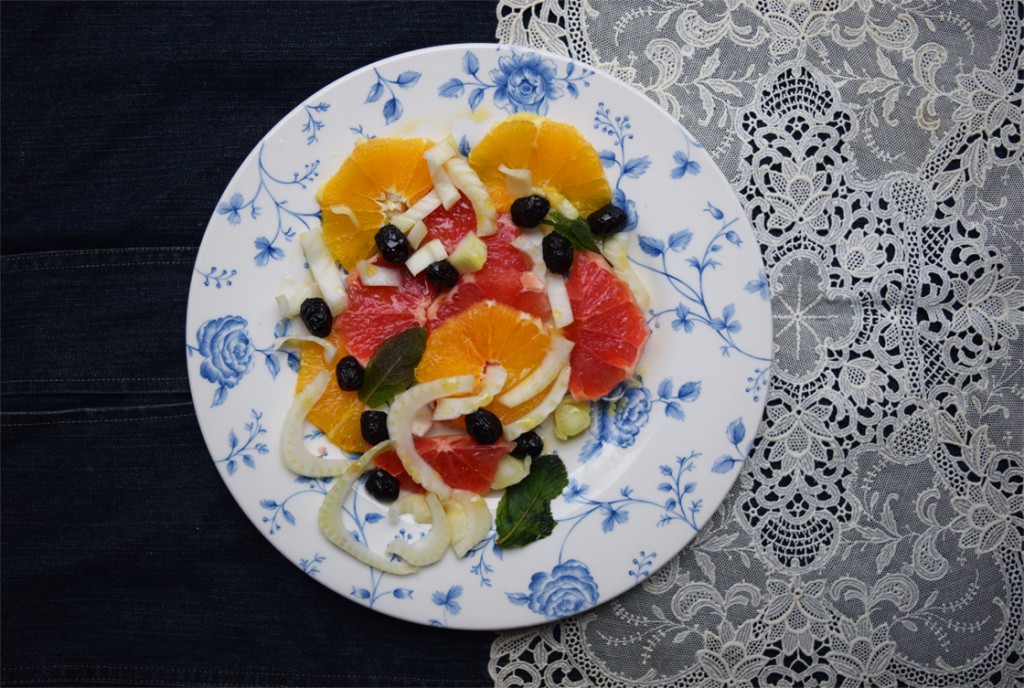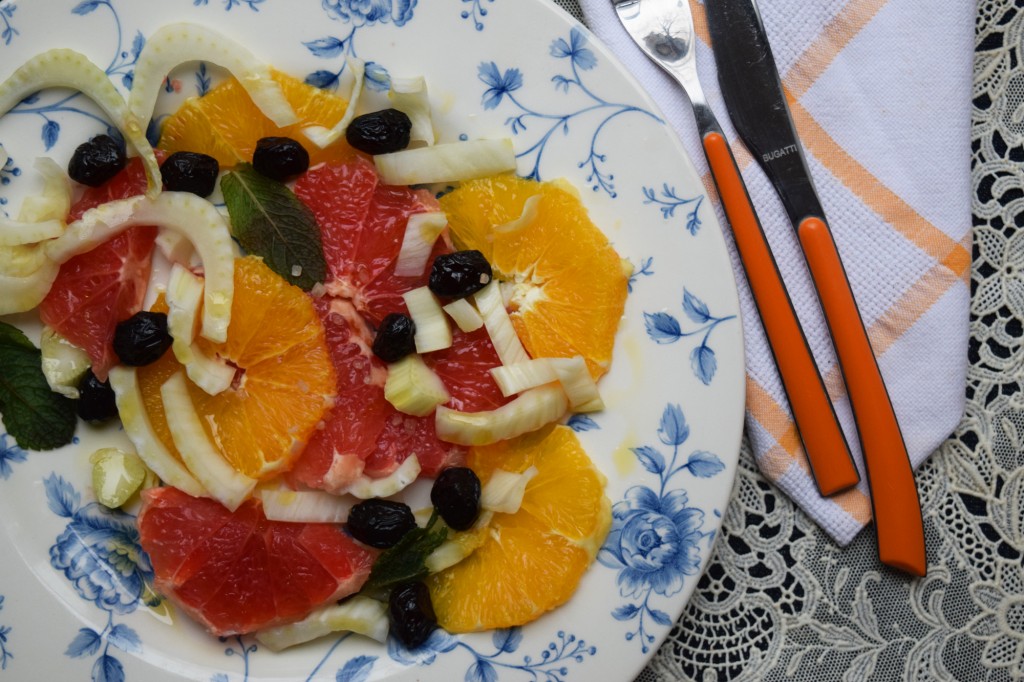 Variation: If you want a sweeter twist to the salad, you can swap the grapefruit for blood oranges (sanguinelle). The meal can be served with a glass of fresh handmade lemonade. Buon Appetito!!!