As soon as I stepped inside Marianna's gluten-free artisan bakery I was enticed by the aroma of cinnamon drifting from her oven. Here is where my culinary gluten-free experience begins. The cosy bakery called 'Senza Glutine' is situated in the little town of Montesilvano, near the Adriatic Sea to the north of Pescara, Italy.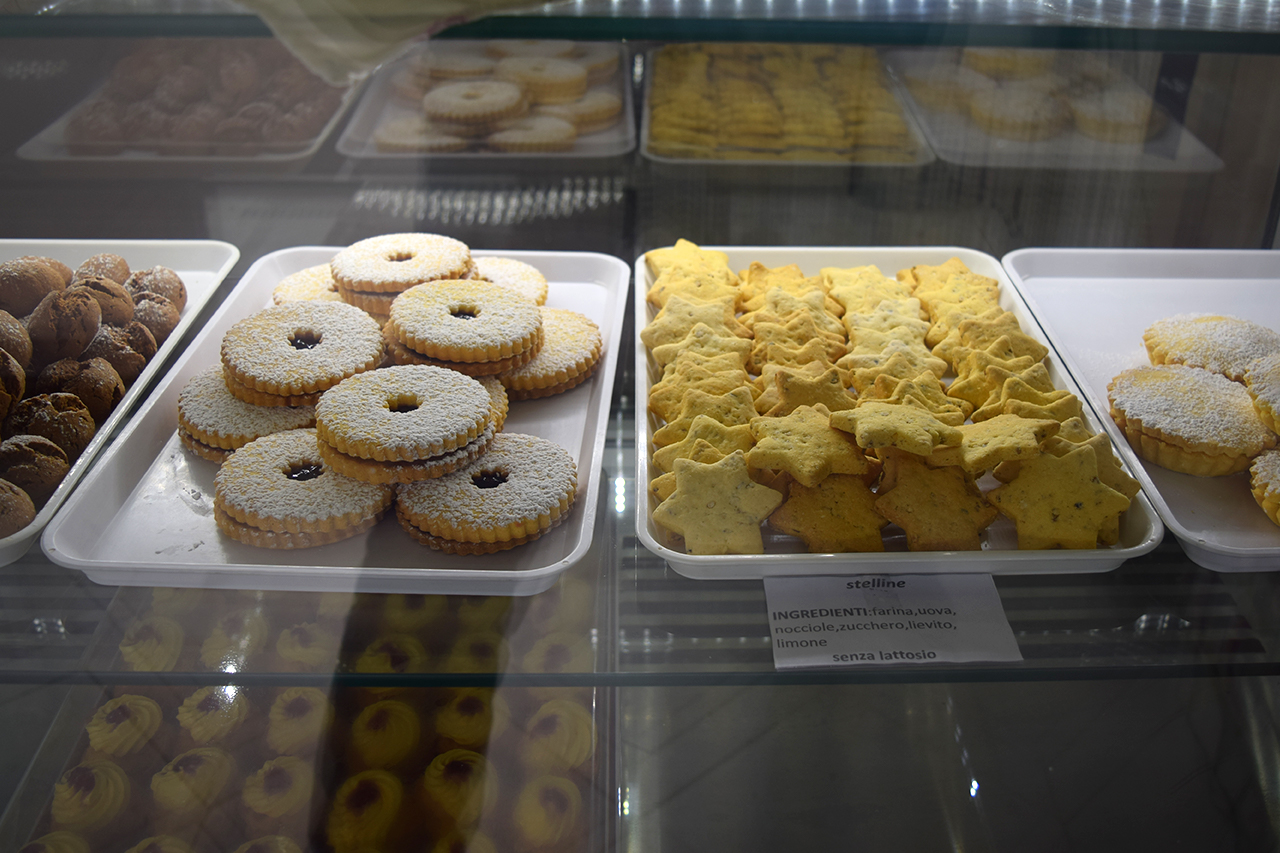 The word 'gluten' comes from Latin, meaning 'glue', and it is a protein present in wheat, barley and rye. This gives the elasticity to food such as pasta, bread and other baked products. Due to the increasing number of people, particularly children, who are sensitive to gluten or suffer from celiac disease, Marianna Olivieri decided to transform her passion and talent into a family business. In August 2013 she opened the 'Senza Glutine' bakery with her husband Massimo Martini. Marianna welcomed us with a bright smile in the artisan bakery, which looks like a blossoming beauty of pastry. Pink seems to be the predominant colour in the shop; of course it can only be pink as they have their little girls, Maria Silvia and Francesca as assistants.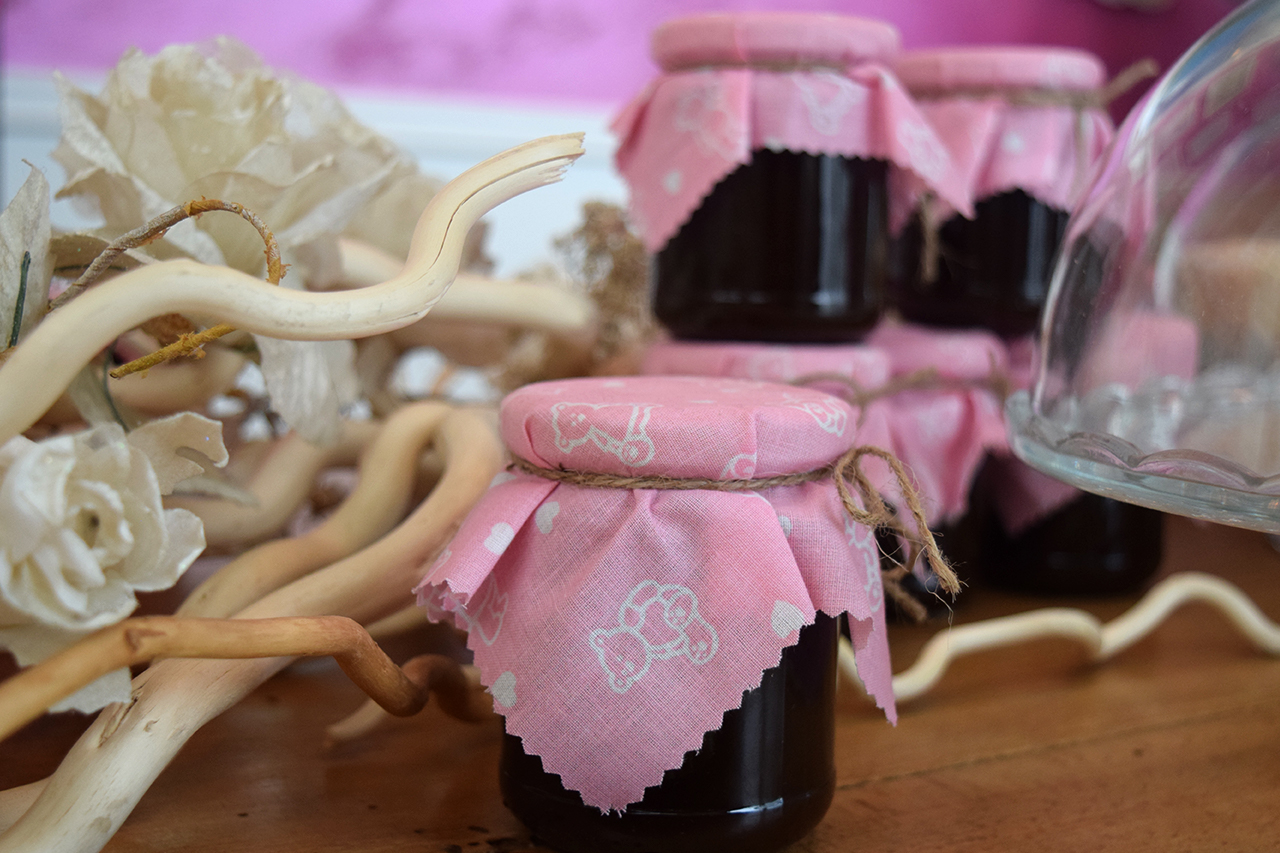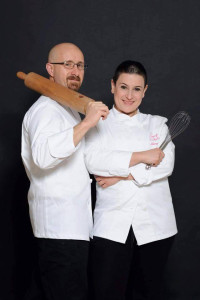 Massimo serves the customers while little Francesca gets the full attention of visitors. In the meantime, we follow the chef to the kitchen. Here is where the entrepreneur Marianna reveals that she takes inspiration from traditional local recipes as well as old cooking books and then starts exploring different flavours to create modern twists. With eighteen years of culinary experience her mission is to produce delicious and tasty food that her gluten-free customers can trust. She tells us: "it's gluten-free, all handmade with no additives, we only work with the best ingredients". She pays attentions to the origin and quality of each ingredient and this is what makes her food vigorous and tasty. Even if you are gluten-tolerant you will really notice the light nature and beautiful taste of Marianna's products. There is something for everyone; pasta, bread, cakes, pastry, all gluten-free. Her generosity goes beyond simply inviting us to her bakery. She is happy to reveal one of her special recipes for 'Quadrotti al Cioccolato e Arancia' Chocolate and Orange Quadrotti (Big Squares).
Quadrotti al Cioccolato e Arancia (This recipe makes approximately 36 squares)
Ingredients
150g hazelnut
100g gluten-free flour
90g butter (room temperature)
40g dark chocolate
1 egg
1 tablespoon of cinnamon
Zest of 1 large orange
120g sugar
8g baking powder (1 teaspoon)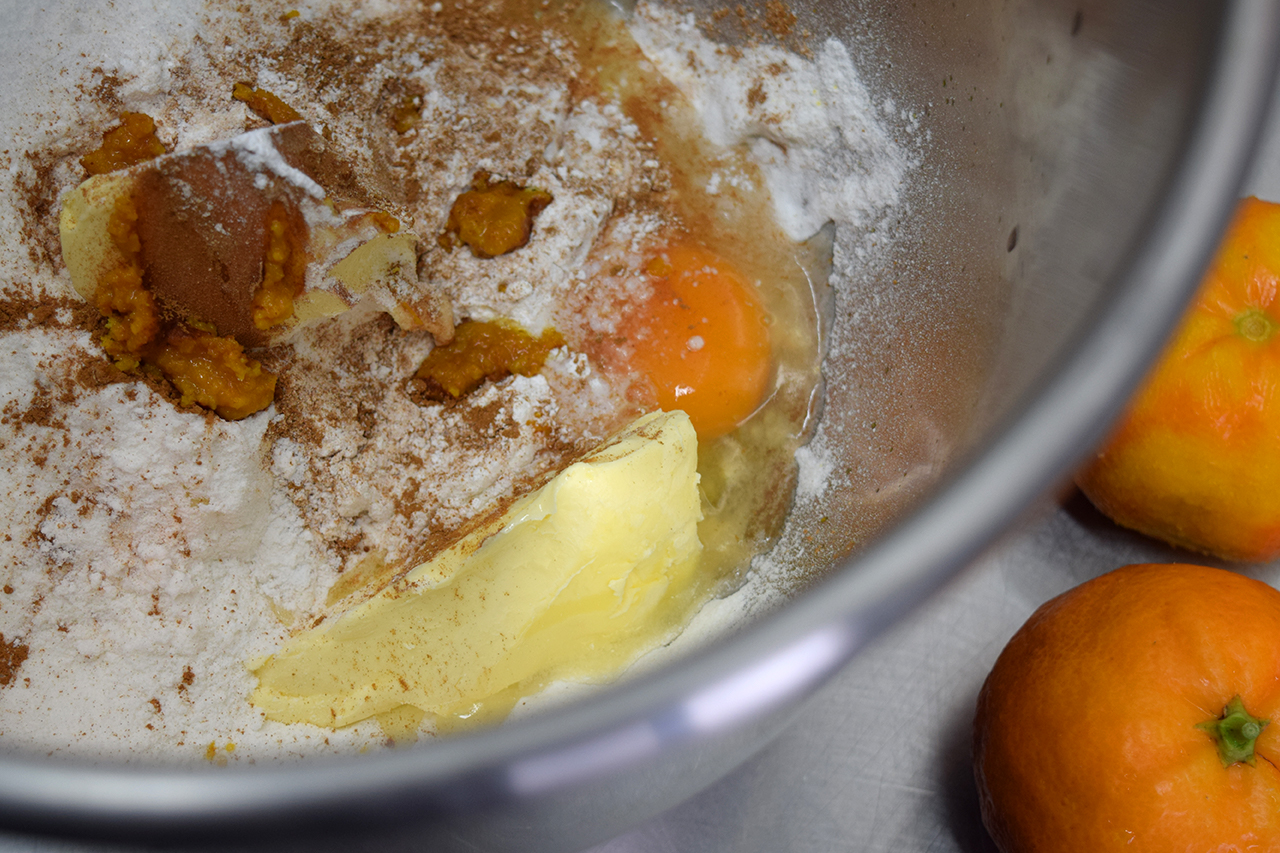 Method
Preheat the oven to 180'C/Gas 4 and line two or three baking trays with baking paper
Sift the flour into a food mixer, add butter, egg, sugar, great the orange and mix
Chop the hazelnuts and add them to the food mixer
Melt the dark chocolate 'al bagnomaria' as follows:

Add water to a saucepan and heat
Break the chocolate into squares and add to a heatproof bowl
Ensure that the bowl does not touch the base of the saucepan
Stir regularly until the chocolate is melted
Turn off the heat and place the melted chocolate into the food mixer

Add all the ingredients and mix well until a uniform texture
Collect together with your hands and compact to form a dough
Let the dough rest for few minutes in the fridge in a covered bowl
Place the dough onto a clean work surface. Divide into two and then squash into flat discs. Roll the dough with a rolling pin until it is less than 1cm thick
Assemble your cutters and start to cut. Lift each square off the work surface and onto the baking tray. Make sure they are not too close together as the dough will spread a little when baking
Bake in the middle of the oven for 20-25 minutes, depending on your oven
Remove the tray from the oven and allow to cool on a wire rack until they become crispy
Store the squares in a large biscuit tin or sealed container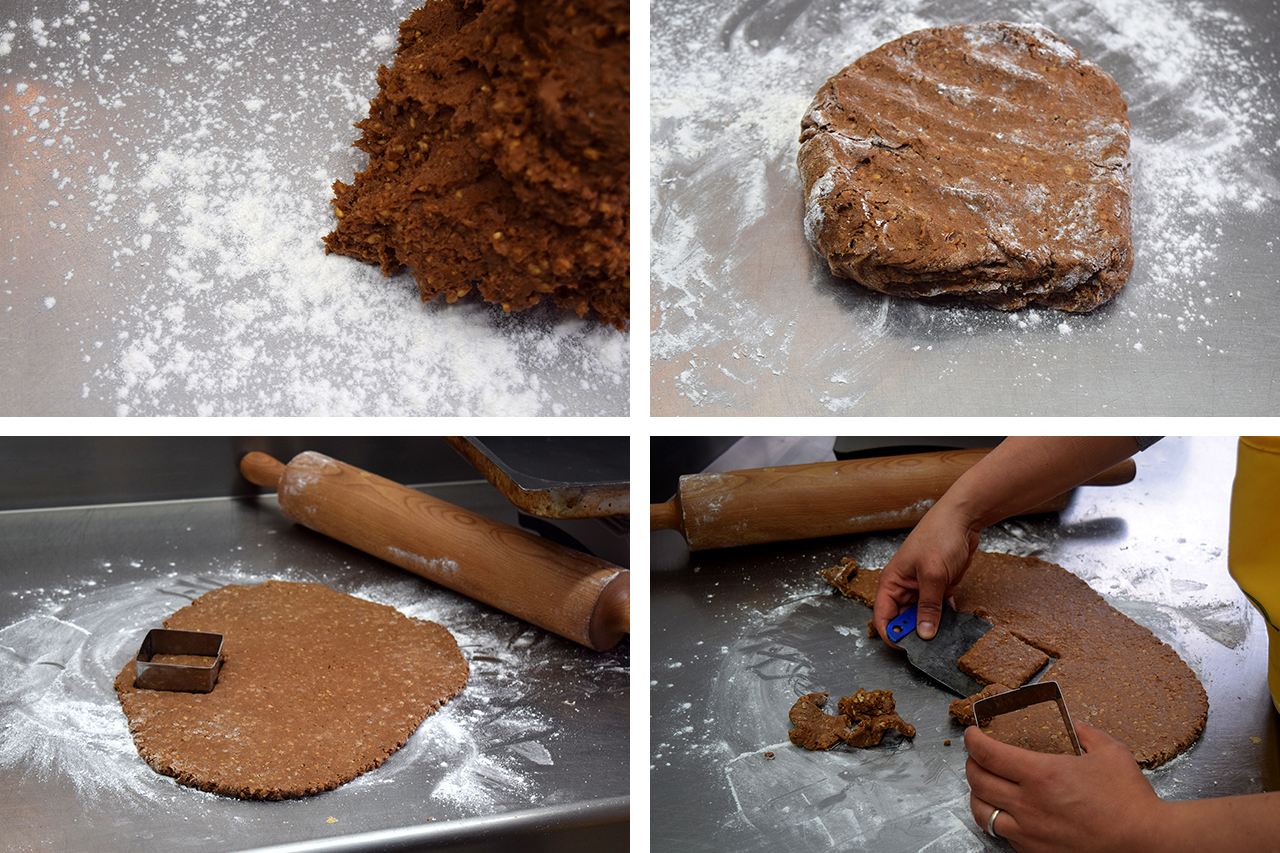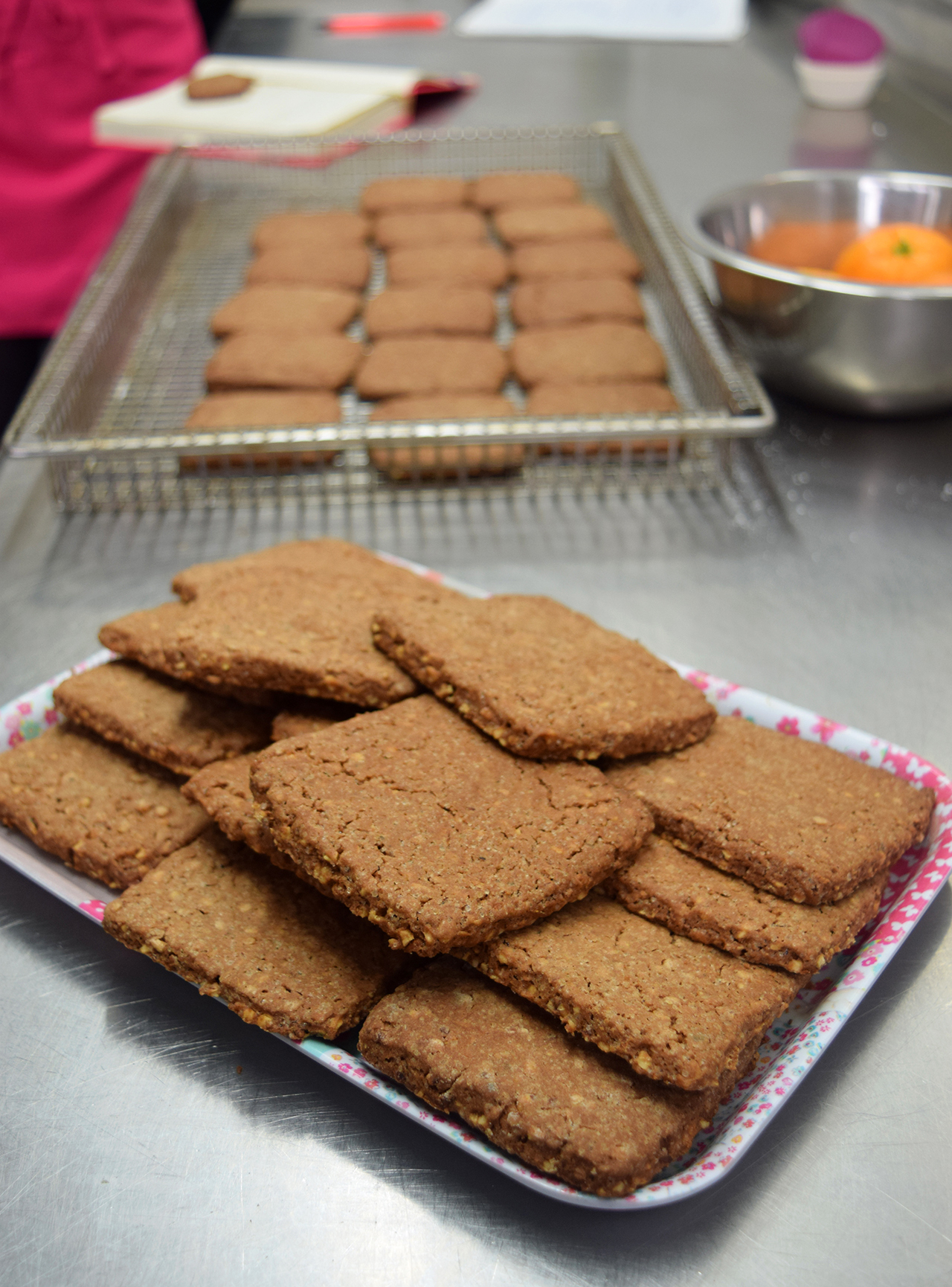 If you are in the Abruzzo region of Italy, don't forget to visit the Senza Glutine bakery and shop in Montesilvano. (Via Gabriele D'Annunzio, 54, Montesilvano, Italy.)